RegenRPR in several tendinopathies
RegenPRP has been evaluated for several tendinopathies including:
Chronic tendinopathies
Non-insertional tendinopathies compared to enthesopathies
Gluteus tendon
Shoulder supraspinatus
Foot plantar fascia
Specific research:
Achilles and patellar tendinopathies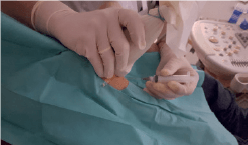 Achilles tendinopathies
Objective:
Evaluate the use of RegenPRP for the treatment of recalcitrant non-insertional Achilles tendinopathies and investigate whether positive outcomes
depend on the age of the patients.3
Protocol:
Retrospective study on 44 patients who had
failed to respond to conservative treatment.
Patients received a total of 3 treatments at weekly intervals. RegenPRP (~ 4 ml) was injected at several sites into the degenerated tendon area. Injections were performed in sterile conditions, without anaesthesia and under ultrasound (US) control (Fig. 1).
Functional evaluation of Achilles tendon was performed using Victorian Institute of Sports Assessment-Achilles questionnaire (VISA-A) at baseline and at 1, 3, 6
and 12 months after the treatment. Patients were divided according to their age in two cohorts (Young <55 years old; Elderly >55 years old) (Fig. 2).